Chicano-Latino Studies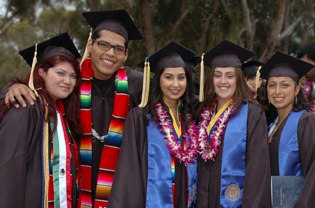 The Department of Chicano/Latino Studies is designed to provide undergraduate students with an opportunity to examine the historical and contemporary experiences of Americans of Latin American origin. This diverse population includes people who trace their heritage to Mexico, Cuba, Puerto Rico, El Salvador, Guatemala, Nicaragua, and many other Latin American and Caribbean nations.
The curriculum seeks to provide an awareness, knowledge, and appreciation of the language, history, culture, literature, sociology, anthropology, politics, social ecology, health, medicine, and creative (art, dance, drama, film, music) accomplishments in Chicano/Latino communities. The Department offers a B.A. degree in Chicano/Latino Studies, a minor, a certificate program, and a graduate emphasis.
Chicano/Latino Studies Newsletter - Spring 2014
Congratulations to the class of 2014!!!!!
President Obama with UCI undergraduate speaker Jacqueline Rodriguez, who received a bachelor's degree in sociology and Chicano/Latino studies.
!!! RAZA Graduation 2014 !!!