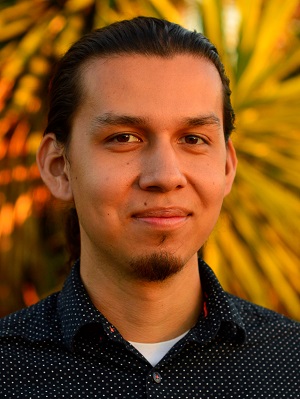 Chicano/Latino Studies and
Biological Sciences
Class of 2019
Miguel Ochoa | I am a first-generation STEM student of Mexican-American heritage, and an active member of SACNAS. I entered UCI as a Biological Sciences major, but introductory history and ethnic studies classes also shaped my interests, and I quickly realized I could not be just a biologist…It was not until I studied abroad in Costa Rica that I was able to connect both of my academic interests into one. While living and studying in the Tilarán Mountains in Puntarenas, I did a research project on medicinal plants. With the help of the local curandero, we chemically isolated herbal oils that could be used to deter disease-carrying mosquitoes from biting humans. I realized just how important indigenous knowledge was, and how it had to be protected along with the other aspects of the rainforest. Being a scientist and ecologist is more than saving the bees and the trees, it's also about acknowledging colonial history, promoting diversity among decision-makers, and listening to community activists to build a more sustainable future.
Today, I am working at UCI as a data analyst, and continuing my education through night classes at my local community college to prepare for graduate school. I'm also working on publishing a manuscript on the effects of drought on California plant ecosystems, and want to continue these studies as a researcher in the field of agroecology.
---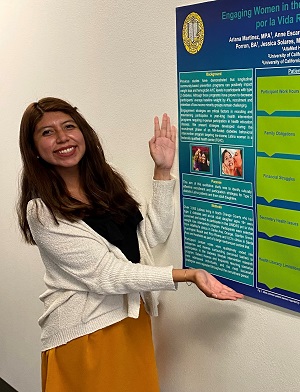 Chicano/Latino Studies and
Public Health
Class of 2019
Joceline Porron | I am a first-generation student. Growing up in a predominately Latino community in Santa Ana, I felt close to my Mexican roots, yet felt that I wasn't appreciating my culture in depth. Part of the reason was that the public education system only taught American history, but once I started my undergrad career, I began to learn more about my cultural roots.
I decided to pursue Chicano/Latino Studies as a second major after taking an introductory Chicano/Latino Studies course. I wanted to learn more about the unique history and the distinct cultures within the Latinx diaspora besides the Mexican experience. I knew that I could integrate Chicano/Latino Studies with my major in Public Health because I wanted to work with low-income, Spanish speaking communities. Both of my majors interconnected beautifully because during my fifth year I took on a research internship working with AltaMed on a dyadic intervention program working with Latina mothers and daughters in controlling and preventing diabetes. This UCI sponsored study allowed me to practice my cultural competency skills and gain field research experience in Public Health. Ever since I joined the study, my internship turned into a full-time job after graduation and am I currently helping patients schedule COVID-19 testing appointments at the AltaMed call center. I am also ready to begin my Master's in Public Health at UCI this Fall 2020. After earning my Master's in Public Health, my career goal is to work continue to work with AltaMed with low-income communities to help integrate free community-based health and resource programs.
---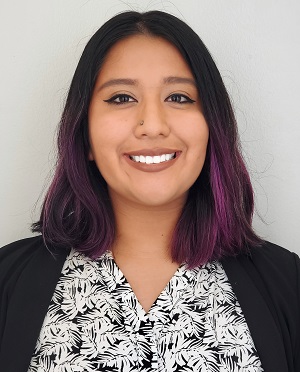 Chicano/Latino Studies and
Earth System Science
Class of 2020
Esmeralda Hic | I was born and raised in the Coachella Valley of Southern California, a majority Latinx, immigrant, and working-class community. My experiences with environmental racism inspired me to major in Earth System Science so that I could have a fundamental understanding of the science behind climate change and better understand the environmental issues my community was facing. As I progressed in my undergraduate career, I realized that although I was learning the science behind the climate crisis very well, I was lacking knowledge surrounding the social inequities and challenges that climate change presented, specifically as it relates to communities of color.
Double majoring in Chicano/Latino Studies allowed me to have a more complete understanding of the climate crisis. As I learned about rising sea levels, worsening air quality, and resource scarcity I was also able to connect it back to equity issues and societal dynamics thanks to my experience in my Chicano/Latinx Studies classes. Double majoring allowed me to be a more informed scientist and advocate who understands how all of these issues are connected. Now as an alumna, I am starting a new position with the RAY Diversity Fellowship, a program intended to increase environmental leadership among young professionals of color. Through the program, I will be working at the Institute for Market Transformation, a nonprofit in Washington D.C., as their Policy Fellow. I will be working with communities across the country to meet their energy efficiency needs and help with their responses to the climate crisis. In the future, I hope to return to academia for grad school and I hope to eventually find my way back to my own community to help address the climate and societal issues we face and to help contribute to our community resilience.
---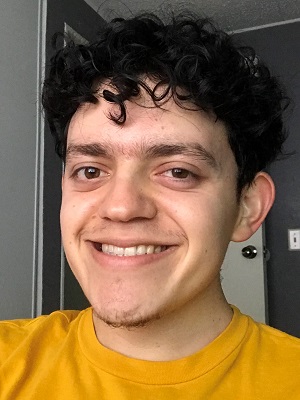 Chicano/Latino Studies and
Psychological Science
Class of 2020
Joel Manzo | Ever since taking my first Chicano/Latino Studies class, I knew that being a Chicano/Latino Studies major would provide me with an environment that assured me I was being seen, heard, and understood. During this time I was also considering what was then Psychology & Social Behavior since my personal struggles as a first generation college student, motivated me to learn more about the mind and mental health. Ultimately, I decided to take on the challenge of majoring in both areas of study and it is one of the best decisions I made! As the quarters passed, I became fascinated by the interplay between both subjects – especially with Chicano/Latino studies giving me a different perspective when learning about psychology. For example, how would seeking professional help work out in a community that values familismo? Currently, I am enrolled in UCI's Psychological Science Post-Baccalaureate Program where I will be enriching my psychology education as well as develop my research skills by working in the Health, Relationships and Intervention, THRIVE Lab. My goal is to attend a master's program in therapy to be a licensed Marriage & Family Therapist and serve the Latino community.
---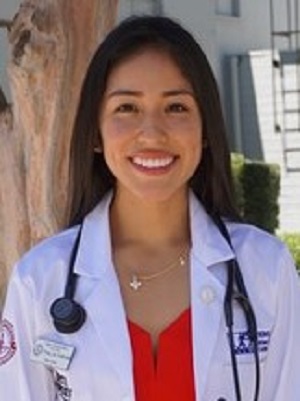 Biological Science and
minor in Chicano/Latino Studies
Class of 2015
Thalia Fabian | I was born in Perú and moved to the Central Valley when I was five-years-old. I grew up in rural towns outside of the city of Merced. I am the proud daughter of a truck driver and a warehouse worker and I am a first-generation college student. Pursuing a minor in Chicano/Latino studies allowed me to learn about the social disparities of health happening to Latinx communities that are not always discussed in biology classes. This influenced my decision to pursue medicine in communities with similar demographics as my own. I made the most of the minor! I was able to work closely with faculty who led health-research teams in the Department of Chicano/Latino Studies. This equipped me to become a strong leader, advocate, and to network with professionals in my field of study.
Since graduating from UCI, I did a "post-bac" program and also obtained my Master's in Medical Sciences from Western University of Health Sciences. I've worked in medical clinics in Panamá, Perú, Nicaragüa, the Dominican Republic, and also participated in Healing Hearts Across Borders in Tijuana, México, where I put my Spanish-English bilingual skills to use and interpreted and translated for physicians, collected data from patients, and shadowed physicians as they assessed, examined and diagnosed the patient.
Today, I am a second-year medical student at the College of Osteopathic Medicine of the Pacific. I am a National Health Service Corps scholar with the intent to pursue family medicine after graduating from medical school. I am also the founder of Thalia's Medicine, a non-profit organization that provides California's underserved communities with free in-person and online bilingual workshops, homemade recipes, and educational resources to promote physical, nutritional, and mental health.
---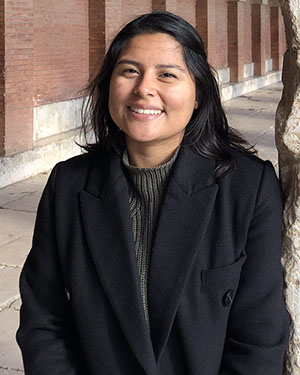 Criminology, Law & Society
Chicano/Latino Studies
Class of 2020
Natalie Berrios | I was born and raised in South Central Los Angeles and I am Central American, specifically of Salvadoran heritage. I declared the major in Chicano/ Latino Studies because I knew I wanted to learn more about Latino Studies and my high school did not offer courses like the department did. I already knew my major was going to be Chicano/Latino Studies coming into UCI! As I started taking more courses in the department, I came across a race and ethnicity course that cross-listed with the Criminology, Law and Society major. I knew that I wanted to major in that as well because I wanted to have an understanding of minority groups' experiences with the criminal justice system. Chicano/Latino Studies helped me learn about various policies that have affected different Latinx folks. It is really vital for people to understand cultures other than their own to be able to help. While I felt criminology courses were mostly theory based, I really liked how Chicano/Latino courses allowed me to apply theories to the world around me. The courses also allowed for creativity and expression through literature from Latinx people. Currently, I am a legal assistant at an immigration law firm and I plan to apply to law school in Fall 2021.